Robotics can now be found virtually everywhere. But the focus is how robotics can help kids learn science and engineering. Meanwhile, robotics is a branch of engineering that involves the conception, design, manufacture, and operation of robots.
The goal of the field of robotics is to develop smart machines that can help people in a variety of ways.
There are many different types of robotics. A robot could be a machine that looks like a person, or it could be a robotic application like robotic process automation (RPA), which mimics how people interact with software to carry out routine, rule-based tasks.
Robotics is an interdisciplinary branch of computer science and engineering. Designing tools that can aid and support humans is the goal of robotics.
The field of robotics combines concepts from science, engineering, and technology.
Although the study of robotics and the investigation of the capabilities and possible applications of robots has expanded significantly in the 20th century.
The concept is unquestionably not a new one. In this article, we have done good research on how robotics can help even kids learn science and engineering but before we delve into this, let us discuss a brief history of robotics.
History Of Robots/Robotics
George Devol, an American inventor and the founder of Unimation, the first robotics company in history, created the first industrial robots.
What is regarded as the first industrial robot was created in the USA in 1954 and sold to General Motors. It was a hydraulic arm known as Unimate that could lift large objects.
See also: What Is STEAM Education? And Why It Is Important For Kids
Robotics For Kids
Any activity that aids children in understanding robots is considered to be robotics for kids. Robotics-related games and kits can be used as activities to get kids' little hands busy making something entertaining, while more in-depth courses can help kids learn more about the design and uses of robots.
Robotics not only improves kids' understanding of Science, Technology, Engineering, and Mathematics but also develops their creativity and problem-solving skills.
A fun and instructive way for children to acquire STEM ideas and advance critical thinking abilities is through robotics.
Kids can learn coding concepts through robotics. In order to instruct the robots, children learn how to code.
Benefits Of Robotics For Kids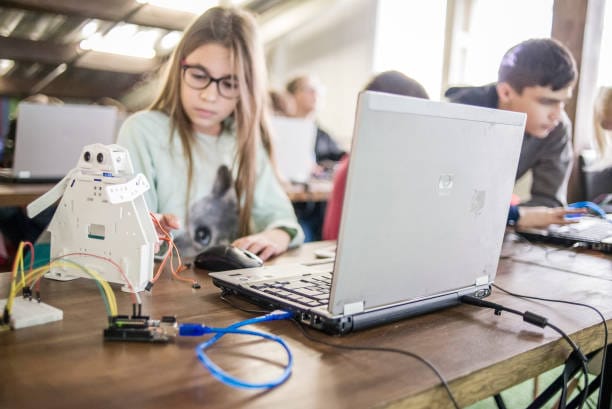 Robotics is a fascinating, interdisciplinary area that uses technology, engineering, and science to impart critical problem-solving abilities to young people.
Kids can learn to think critically while actively participating in engaging projects and activities with robotics education.
Here are the benefits of Robotics For Kids:
It Encourages STEM Education
Learning robotics can aid children in grasping more complex Science ideas. Presently, educational systems all around the world are concentrating on creating curricula for students in the STEM transdisciplinary fields.
This is done to prepare pupils for careers in science, technology, engineering, and math.
Excellent robotics for kids curriculum may make studying engaging and exciting while assisting pupils in connecting scientific concepts to practical situations.
Children learn about the world of circuits, wiring, coding, software, and much more in robotics classes. Hence, building a robot facilitates comprehension of STEM across several subjects.
It Promotes Motor Skill Development
The capacity to use the body's muscles in a certain way to carry out a task is known as motor skills. The objective of motor skills is to lower the amount of energy needed to perform. Children's cognitive development is accelerated through the development of their talents. Independence in learning and exploration is made possible by this. Through diverse activities including coding, design, mechanical assembly, and computer simulation, kids' robotics will aid in the development of their motor abilities.
See also: The Future of Robotics; How Kids Can Prepare for a High-Tech Future
It Can Build Computational Skills
The capacity to swiftly and accurately calculate fundamental addition, subtraction, multiplication, and division problems is referred to as computational skill. Robotics is interdisciplinary that involves concepts of mathematics, science, and engineering.
Kids will learn to give commands to robots through coding, which involves a fundamental understanding of mathematics. Robotics for kids will help kids learn how robots move in a given environment.
The degree of movement of robots in the surrounding requires computation.
It Enhances Coding Abilities
The study of robots is called robotics. Robots require instructions, such as what to do and how to do it, in order to function.
Robots receive instructions through coding. Simply put, coding is a set of instructions. Kids who study robotics will also learn the fundamentals of coding.
Your kids will gain a fresh perspective on problem-solving by learning to code.
Kids are certain to understand the various ways they can program a robot and can issue commands of their choice with the aid of coding.
Kids who learn robotics will learn to code in order to solve problems in creative ways, as they will occasionally use a trial-and-error process to write the right code.
See also: Top 15 Best Computer Programming Schools For Kids in Nigeria in 2023
How Robotics Help Kids Learn Science And Engineering
Little children who show little interest in academic areas like math and science are common. Learning about robotics has a great impact on a child's interest in these disciplines.
Kids' robotics classes primarily place an emphasis on hands-on learning rather than rote memorizing theory. They consequently become interested in STEM fields.
Modern programming and artificial intelligence are two of the most significant scientific topics today. These two ideas have a direct connection to robotics.
Because of this, robotics classes are a great way to expose kids to the basics of programming. Furthermore, youngsters find programming more intriguing in this way since robotics is so hands-on.
STEM robotics helps students visualize the code they create, whereas conventional programming is completely theoretical.
STEM Children benefit from robotics by developing their problem-solving skills and conquering their fear of failure.
Kids examine a problem and attempt to solve it as simply as possible using robots as they learn robotics. Children learn how to tackle problems in the real world using robotics.
The way STEM robotics encourages youngsters to collaborate and learn from one another is crucial.
Due to the variety of abilities required, robotics encourages kids to work in teams and collaborate. You may help your kids' social skills in this way.
Robotics And Engineering For Kids
Learning robotics at an early stage can help kids understand engineering as they grow.
A robotics engineer is a designer who is responsible for creating robots and automated systems that are able to perform tasks that humans are either unable or are dangerous.
Their creations help make jobs safer, easier, and more efficient, particularly in the manufacturing industry.
Kids who learn robotics will find it helpful as they grow.
Robotics can also help kids learn science and engineering by equipping them with the following skills: Active learning skills, mathematics skills, communication skills, persistence, complex problem-solving skill, and good judgment and decision-making skill.
Conclusion
The goal of the field of robotics is to develop smart machines that can help people in a variety of ways. But we have seen above that it can help kids learn science and engineering in school with ease.
This is because of the instructions and computational demands when building a robot.
Indeed, robotics is invading every aspect of life and field. You may want to see this step-by-step guide on how to build a robot.
Frequently Asked Questions
What is robotics for kids?
This is an activity that aids children in understanding robots and is considered to be robotics for kids. Robotics-related games and kits can be used as activities to get kids' little hands busy making something entertaining, while more in-depth courses can help kids learn more about the design and uses of robots.
What is STEM education?
STEM education refers to the integration of the four subjects (science, technology, engineering, and mathematics) into a cohesive, interdisciplinary, and applied learning approach. This isn't academic theory—STEM education includes the appropriate real-world application and teaching methods. As a result, students in any subject can benefit from STEM education.
Reference
https://www.techtarget.com/whatis/definition/robotics
Recommendation